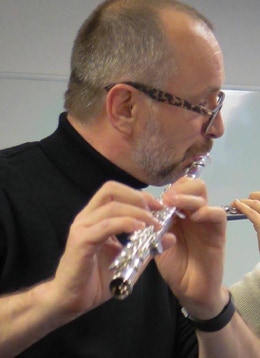 Online lesson via Zoom is a wonderful solution. Zoom works simple and is reliable.
The sound quality is incredible. I will help you through the settings, so the sound is as good as Zoom can offer.
We can work on and solve the most difficult technical flute problems. The sound is so good, even tone and tone colors are within range!
You can ask me about methodology and teaching, when you find yourself in a situation you can't solve with your pupils or students. I'm very happy to help you.
Contact
E-mail: info(at)robertpot.com
Phone: 0031 117 451497 Cell-phone 0031 653 801927
Appointment
Please send me an e-mail at info(at)robertpot.com or call for an appointment. I will send you a Zoom invitation with a link and password. Just click on the link on the agreed time and follow the instructions. I will talk you through the settings for the best sound possible.
What do you need?
You need a broadband internet connection, a webcam, loudspeakers or headphone and a microphone on your pc or mac.
Flute Lessons - Tips - Help - Clinic - Repertoire - Flute - Alto flute - Bass flute - Concert - Audition - Finals - Posture - Breathing - Embouchure - Tone - Dynamics - Intonation - Tone coloring - Methodology - Error-analysis - etc.